Oh my. Hello to those of you who still follow me in my tiny corner of the teacher blogging world. It has been a five month absence. I alluded to the fact that I was feeling less than inspired to blog in my last few posts, but now that spring break is here, maybe this will be the jump start that I need to get going.
Here's the agenda!
1. Currently linky
2. New products I've created recently
Listen closely, you'll be quizzed at the end!
It has been so long since I've partaken in this linky!
Listening: Sports Final is a Sunday night thing on NBC just recapping Philly sports. Usually I am snugging solo in bed at this time on a Sunday, tossing and turning no doubt. But boys and girls, I am on spring break! Grown up appropriate bed time!
Loving: Well, without kids of my own, spring break is just a reaaaally long weekend for me. I usually don't have many things planned. And then I sleep the whole break away. Not this time, though. Boyfriend's birthday was yesterday, so we went to Atlantic City for the night. Today, I went out to the Cheesecake Factory [first timer here!] for Easter dinner [don't judge!] with my dad and sister. Now, I have a couple days of downtime, so I'm catching up on school and grad class work. On Wednesday, I'm off to Colorado for some family time until Saturday.
Thinking: That I miss this whole blogging thing!
Wanting: I gotta get back on my healthy eating kick. In the beginning of the school year, I lost about 15 pounds. Then, its been downhill since Thanksgiving. =(
Needing: Colorado is coming. Might want to bring clothes with me.
Advice: Be you! If you're outgoing, own it. If you're reserved [like me], own it. I've recently gone through some things where I feel like people are questioning my quietness. After some soul searching, it really isn't worth my energy to go against my natural personality, which is to be a listener and speak up when I'm passionate about my opinion. To connect that to TPT, blogging, etc, I would say not to compare yourself to others. I didn't feel like blogging for five months, so I didn't. At present, I only make products that I use myself in my classroom. Don't worry about what other people think, just be you.
Because, well, you're great.
Like I need to remind you, but go link up!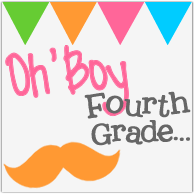 So, although I've been slacking on the old blog lately, I've still been creating some products that I've used in my classroom. Maybe they'd be useful to you as well?
I've made another task card/recording sheet product. They go along with 2nd-4th grade Common Core measurement [linear, mass, and liquid volume] math standards. Here's a preview. Click the link to head to my TPT store to check them out! [If you want an idea of how they look, download my free set of multiplication and division task cards while you're there!]
I also created a product that can be used to accelerate your upper elementary students, or it can be used in your middle school math classroom. It included placemats, both black/white for reproducing or in color for laminating, as well as a recording sheet, student/teacher directions, and playing cards. Students draw an expression and a variable. They evaluate the expression based on the value of the unknown. My kids loved it, and they were very engaged! =)
Right now, I'm working on a pack the is all about research!
As I've mentioned, I'm currently in graduate school for my degree in School Counseling. I was inspired to meet some of the ASCA standards through my research unit that is coming up in writing. Right now, the pack includes lesson plans, graphic organizers, final draft paper, a brochure template, and a rubric. Anything else you'd like to see in the pack that would meet your classroom needs? If you post a suggestion that I end up using [and include your email!], I'll send you the pack for free when it is finished, which should be in the next couple days!
Before I go, sorry that I had to put the capsha code thingy back on the comments. The spam comments were out of control! Anyone have a better, blog commenter-friendly way to solve that problem?