Anyone else out there gearing up for Holly Bloggy Christmas 2011?!
Insert picture of the cute button here. UGH why can't I find it on my computer. Aaahh, there it is.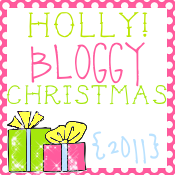 I'm going to do my crafting and send out my gifts this weekend! I can't wait to share my gift with my partner! I hope she appreciates my crafty nature. Funny that we were paired together, because she and I have a TON in common! Nice work, ladies! And my secret pal's blog is super cute, but I don't want to become a follower until after Christmas!
The blogger who has me probably can't see my blog, because I put my old blog URL on the original form I filled out, as it was right before I changed the name/look of my page. Ooops!
But if there's any chance that you can see me.. Hi!!!
Have I mentioned I'm super awful at keeping secrets? I can't wait!