I participated in both the Teacher and Class exchange!
For the class exchange, I was paired with Amber at...
We kept it simple and exchanged handmade cards. I honestly wanted to do more, but I was paranoid of doing Valentine's stuff too far ahead of Valentine's Day and getting in trouble! We third graders have a test to prepare for you know! Anyway, our classes matched up nicely, and we paired up our students so that they made/got cards for/from the same student. At least that was the plan. Until 1 of my boys was absent, 1 boy moved after I sent her my list, and 1 boy refused to cooperate [as usual]. So I had to reassign a few. But my kids had fun and loved getting stuff from other kids! I wish I took pics. My girls made the cutest cards. A few boys really did, too. But then there were some strange ones. Sorry, Amber! I have a unique bunch this year.
Onto the Teacher Exchange! My gift was for Mor at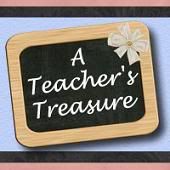 I forgot to take a picture before I sent it [typical]. But she put a pic on her blog, so I'll post that! I made her a LOVE wreath, and I included a cute little trinket box. I'm glad she liked it!
My valentine was from someone named Sydney. Sydney, if you have a blog, reach out to me! I'd love to thank you for the gift! She gave me a giftcard to Erin Condren. Truth be told, I'm a Erin Condren virgin. But this gives me a reason to be that no longer. So thank you Sydney!
If you participated, don't be a slacker [like me]! Go link up! =)